Road Trip 2012 – Part Four
A highlight from our last road trip was a quick stop in Badlands National Park. We made sure to spend another day this time around exploring. The landscape is so unbelievable, quiet and eerie. The Ranger program that night also turned out to be awesome! The talk that night was about the Lakota and star navigation. It was such an interesting cultural presentation offering insight to what this place was like long before recent exploitation of the land.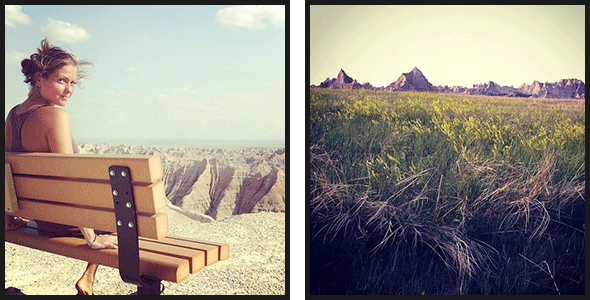 "…learning how the Lakota experience the earth's sacredness, (people) will be inspired to seek out and recover their own traditional ways of knowing the earth – not as dead matter spinning in empty space, but rather as our very mother, a living and a holy being." – Ronald Goodman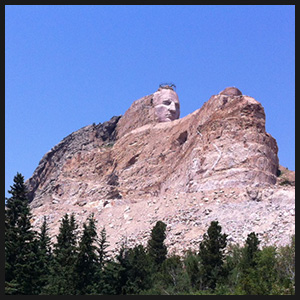 The Crazy Horse Memorial was a definite must see after the disappointment of Mount Rushmore. Although not quite finished, just the face of Crazy Horse alone takes up the same amount of space as all four heads in Mount Rushmore combined! When completed, the Crazy Horse mountain carving will be 641 feet long by 563 feet high. Not only that, the story is quite admirable. The endeavor was taken on by Polish immigrant Korczak Ziolkowski when Chief Henry Standing Bear of the Lakota wrote him, saying, "My fellow chiefs and I would like the white man to know the red man has great heroes, too." With only a few dollars in his pocket he moved across the country and took on this 'crazy' challenge. Although sadly dying before seeing it's completion, his family is now carrying on with the project. Also, it's exclusively being funded by the people. Korczak was adamant that this was the way it should be. Although he was offered a ton of government and corporate money he said that he believed in individual initiative and private enterprise, as well as keeping true to all of the Memorial's humanitarian goals.
It's a beautiful project being carried on with its initial integrity. As to why this artistic choice – Korczak depicted Crazy Horse with his left hand pointing in answer to the derisive question asked by a white man –
"Where are your lands now?" Crazy Horse replied, "My lands are where my dead lie buried."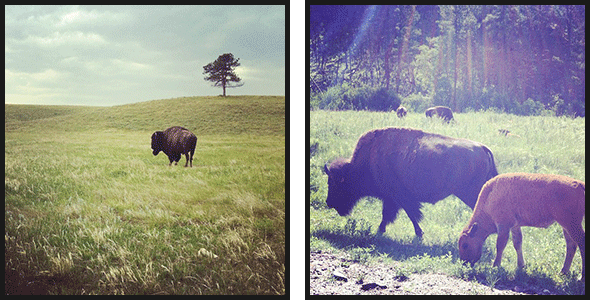 Wind Cave National Park is where I finally got to see a wild Buffalo! Part of the parks mandate is to protect and provide a natural habitat for these large, gentle creatures. We were fortunate enough to see a ton of calves in the herd too!
When I heard the story of the 'almost' extinction of these incredible Beings it was hard not to cry. When the US army invaded and tried to exterminate the Indians, they started with their main supply of food and shelter, the Buffalo (American Bison). They slaughtered this sacred animal in an act of cold blood, mindlessness and fear. It's hard to emotionally understand human ignorance. To think that these animals were almost erased from this planet for nothing is impossible to comprehend.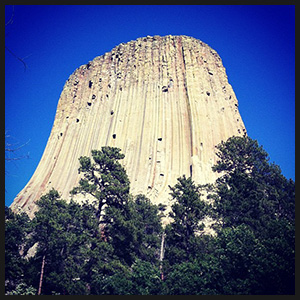 There are few places like Devils Tower. Driving down through the Black Hills in Wyoming, it jumps out of the horizon without warning. It's a huge stone tower pushing it's way out of the ground. It has many names, but the main story of all local tribes have some reference to a bear. Indeed if you look at it, the enormous structure looks like a giant bear used it as a scratch post. It's an incredible and sacred monument.
Last leg of the journey is next…
Related posts in this series:
Road Trip 2012 – Part One
Road Trip 2012 – Part Two
Road Trip 2012 – Part Three
Road Trip 2012 – Part Five
// Do not delete these lines if (!empty($_SERVER['SCRIPT_FILENAME']) && 'comments.php' == basename($_SERVER['SCRIPT_FILENAME'])) die ('Please do not load this page directly. Thanks!'); if ( post_password_required() ) { ?> return; } ?>