Road Trip 2012 – Part Five
After being stuck in rush hour style traffic in Yellowstone, Glacier and Teton National Park, we decided an escape from the crowds would be a much needed break. I really liked the idea of renting a cabin and we found a perfect place in the heart of the Bitteroot Valley. With a backdrop of snowy mountains and situated on a quiet farm, it was an amazing little Montana getaway. Hiking in the area is spectacular, and the people in the local town are really friendly. Our hosts were so nice and gave us full access to their herb and vegetable garden. We made the best vegan chili that week! On our second last day, one of the goats on the farm gave birth. The babies were too cute for words.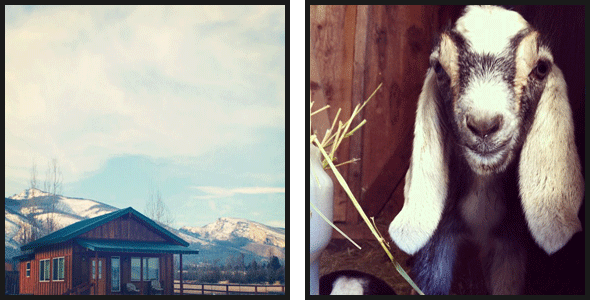 From there we moved on to Craters of the Moon National Monument. The fairly recent volcanic activity is evident everywhere. There's also something pretty magical about it too – I felt really drawn to the area. I convinced Paul to camp a couple nights so we were able to spend some time exploring the park and take in some Ranger programs. It was definitely a highlight of this trip.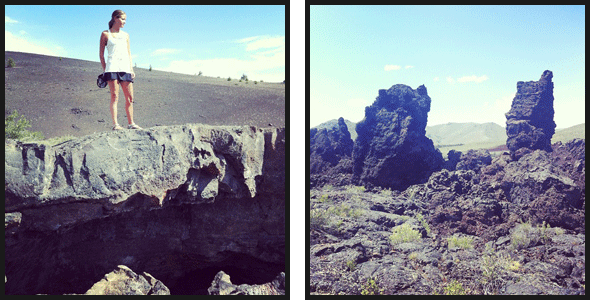 For some reason a volcanic theme seemed to be happening because from there we left for Crater Lake National Park. This is just one of those places you need to see to believe. Basically it's a volcanic cauldron filled after years with rain and snow and is some of the purest water on earth. The color is like nothing I have ever seen in my entire life and almost doesn't look real. A boat tour of the lake was highly recommended and since we only had one day we thought it would the best way to take it all in. On our way down to the boat launch, an extremely excited guy stopped us and raved about the amazing cliff jumping near the dock. This was something I definitely needed to do. When we found it I could see why he was so stoked. It was a 20' drop and you could see even further into the water below! It was terrifying – I stepped out to the ledge almost a dozen times before committing to the plunge. It was worth every second! The ice cold water was so refreshing and I was proud of myself for facing my fear.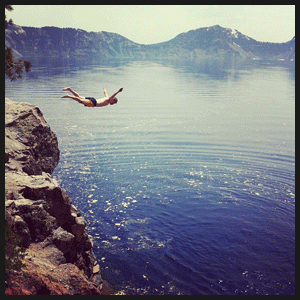 The volcano trend continues with our final destination before making our way home – Mount St. Helens. The weather was becoming typical Pacific Northwest as we drove through the socked-in mountains. It was a real possibility that even with our two days in the area, we wouldn't be able to actually get a glimpse of the mountain. Our second day seemed like the best choice and we headed for the volcano with our fingers crossed. As we rounded the bend into a clearing, the clouds and fog lifted and there it was! The wildflowers were in full bloom and the view was perfect. The power of this place is really undeniable. The landscape still bears the scars of the eruption in 1980 yet still found a way to spring back to life.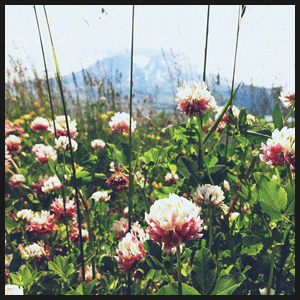 Overall, this was an amazing journey and I'm sad to be heading home. Seeing so many beautiful places and living for three months with the bare minimum reminds me how little I really need to be happy. The world is an amazing place – get out there and explore!
Thanks for sharing this journey with me!
Related posts in this series:
Road Trip 2012 – Part One
Road Trip 2012 – Part Two
Road Trip 2012 – Part Three
Road Trip 2012 – Part Four
// Do not delete these lines if (!empty($_SERVER['SCRIPT_FILENAME']) && 'comments.php' == basename($_SERVER['SCRIPT_FILENAME'])) die ('Please do not load this page directly. Thanks!'); if ( post_password_required() ) { ?> return; } ?>