Heart & Skin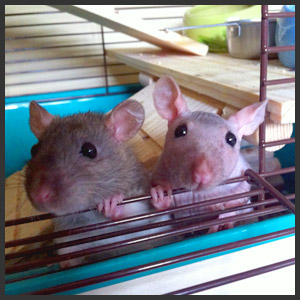 Just recently, Paul and I adopted two baby rats, Awe:ri and Ohna'. Awe:ri means heart in Mohawk and we chose this name because of the little brown fur heart she has on her back. Ohna' means skin in Mohawk and she is a hairless. We fell in love with these two sisters the second we saw them and were so excited to introduce them to our friends when we got home. The reaction to them was anything but welcoming. Most people were a cross between disgusted and horrified and as their new guardians, Paul and I were shocked and hurt. Not only are they social, playful and each have their own little personality, they are so affectionate and are always looking to be loved.
I think people need to have a bit more understanding and a lot more compassion about the world we live in and for the amazing creatures we share this planet with. Next time you get sick and need medicine, think about all those laboratory rats suffering in tortured conditions who may have just saved your life.
We are more connected than you think.
// Do not delete these lines if (!empty($_SERVER['SCRIPT_FILENAME']) && 'comments.php' == basename($_SERVER['SCRIPT_FILENAME'])) die ('Please do not load this page directly. Thanks!'); if ( post_password_required() ) { ?> return; } ?>