In The Pines (Williams, Arizona)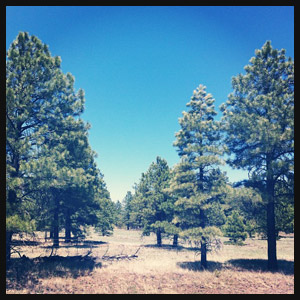 The drive from Sedona to Williams Arizona is amazing – the smell of Ponderosa Pine is thick in the air. Stopping midway for fresh mountain spring water is such a treat, the taste of pure water is heaven.
Our friend Richard (we met him on our honeymoon in Death Valley) lives in Williams and he's giving us a private tour of the Grand Canyon in the morning. He took us on a short walk a few days ago to a sacred watering hole that is full of petroglyphs and wild iris. On the hike, we stopped at a very old Ponderosa. The bark is sienna and smells like cotton candy.
Sometimes it's the simplest things like this that remind me how beautiful and perfect this earth is.
It's all around us – the rocks, the wildflowers, the sun lighting up the mountain. We are so lucky to have this wealth that surrounds us everyday.
// Do not delete these lines if (!empty($_SERVER['SCRIPT_FILENAME']) && 'comments.php' == basename($_SERVER['SCRIPT_FILENAME'])) die ('Please do not load this page directly. Thanks!'); if ( post_password_required() ) { ?> return; } ?>