What's Your Gift?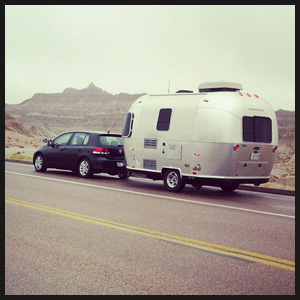 The last little while has been a bit of a bummer travel wise. We got back from our several month long adventure only to have our Airstream flood shortly afterwards, and our tow vehicle die a slow death before our eyes. Both are in the shop and hopefully being repaired. Although the word lemon comes to mind for both parties involved I will try and remain optimistic (those of you who know me understand the extreme challenge in that).
To keep my spirits up I decided to look through some photos from past road trips and realized something. A big part of what made those journeys memorable were the folks that we met along the way. Sometimes you meet people for only a short while; maybe at a gas station, a campsite, a rest stop…but something they say sticks in your mind. As much as I'm cursing the fact that our Airstream is a horrible headache at the moment, we met some pretty cool people because of it. The one thing I discovered very quickly about RVing is that everyone takes life a bit slower. Obviously we can't rip down the highway passing cars like back in the old days, but the scenery gets a bit brighter and more in focus when you're not whipping past it all.
One of the great characters we met as new RVers was Don. We had just purchased our Bambi and were staying on the dealership lot while all the hitch-work, undercoating and pre-delivery inspections were being done. Paul and I woke up one morning to find the lot full of new people who had camped out for the night. All were in need of repairs or annual maintenance and in typical RV fashion, everyone was checking everyone else's rig out. Paul decided to scope out all the action and met some pretty cool people, Don being one of them. Of course he wanted to come over to look at our new purchase but then afterwards invited us both over for dinner that night. He had a beautiful 5th wheel that looked like a palace next to our little 16 footer.
We had a great meal that evening and he shared some of his homemade wine. At some point the conversation led to ancestry and he asked about my background. He seemed intrigued by the Native ancestry on my mom's side and asked about my gift. I wasn't clear on what he was asking me so I got him to clarify. He said to me that it was very special to have Native blood, and that I was born with a gift. He wondered if I had found my gift yet.
I've thought about that conversation every now and then. I guess mostly because if I have been given a gift I'm not sure that I've found it yet.
That's the great thing about people we meet on the road. They give us some amazing new things to ponder, a new perspective on life. Maybe we're all given a gift, some reason that we're put here on this earth – right here, right now. Sometimes it's good to hear that you truly matter, that there's a purpose even bigger than what you could dream up for yourself. Maybe it's something that only a stranger could point out.
What's your gift?
// Do not delete these lines if (!empty($_SERVER['SCRIPT_FILENAME']) && 'comments.php' == basename($_SERVER['SCRIPT_FILENAME'])) die ('Please do not load this page directly. Thanks!'); if ( post_password_required() ) { ?> return; } ?>