Imagine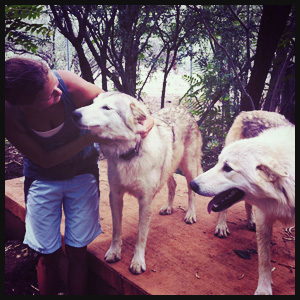 I just learned tonight about something so horrific that I'm sitting here, wide awake in the middle of the night. Two wolves were shot and tossed into a dumpster in the usually peaceful and quiet village I live in. To think that someone could take those lives and treat them with such a lack of dignity rattles me to the core. These incredibly intelligent and social creatures have families just like us, and tonight – there is one family that is in mourning.
The arrogance of humanity is sometimes so disturbing to me I feel completely disconnected and often try to distance myself from it. I find myself becoming more and more introverted with each passing year but to be honest – I'm not sure how else to deal with the reality of what we've become as a species. Sometimes it truly feels like my heart is breaking when I hear what humanity is capable of. How did we get so cruel, so full of hate and fear?
My wish is for a world where people could see the sacredness of all life, the beauty that surrounds us in nature and the incredible way that it all manages to work in perfect harmony together.
You may say I'm a dreamer,
but I'm not the only one
I hope some day you'll join us
And the world will live as one
– John Lennon
// Do not delete these lines if (!empty($_SERVER['SCRIPT_FILENAME']) && 'comments.php' == basename($_SERVER['SCRIPT_FILENAME'])) die ('Please do not load this page directly. Thanks!'); if ( post_password_required() ) { ?> return; } ?>