The Road Less Traveled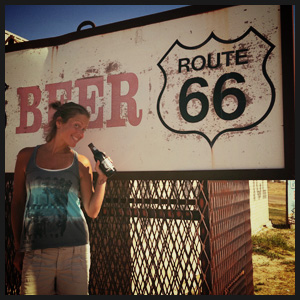 In exactly 3 months, Paul and I will be leaving on our big road trip! We've got so many fun things planned including a visit to Starman – our adopted llama, a week of convoying with our good friends Devon and Jade, Monument Valley, Alumapalooza, Yellowstone National Park and the best part – a whole bunch of unplanned time set aside to see where the road takes us.
One of the things I'm excited to start doing on road trips is to support local wherever we go. Typically we'll stock up at a chain store along the way and take the interstate cause it gets us to where we need to go faster. But something really hit home after our last road trip. Whenever we took those smaller rural highways (typically the ones that were replaced with mega-freeways), we were saddened by all the small mom and pop shops that were out of business or struggling to stay alive. Everything from hardware stores, bookstores, coffee shops…even local farmers are fighting to keep their farms. Some of the best produce I've tasted has been from small roadside fruit stands. This decision just makes sense.
We've met some of the nicest people and had some of the most interesting conversations with the folks at these places too.
One of my favorite 'off the beaten path' memories was the day before Paul and I got married. We decided to check out Pioneertown, population 350 and went to the local (only) pub/restaurant called Pappy & Harriets with our family. While they were finishing up their meals, Paul and I walked up to the bar to have a pre-wedding cocktail and escape the family chatter for a few minutes. We got to talking with the bartender and when she found out we were getting married the next day, she bought us a round on the house…then the couple beside us heard and bought us a round. This couple – the Flanagan's, have now become friends of ours. Now, whenever we're in town they invite us to their home for dinner. I absolutely love small town hospitality! These places inspire me to travel, and these people help me take home the spirit of community.
So why not support the locals? Why not take the road less traveled?
// Do not delete these lines if (!empty($_SERVER['SCRIPT_FILENAME']) && 'comments.php' == basename($_SERVER['SCRIPT_FILENAME'])) die ('Please do not load this page directly. Thanks!'); if ( post_password_required() ) { ?> return; } ?>